LIDC is managed by an all-volunteer board of directors.
LIDC Officers
Greg Eastman, President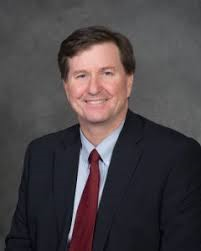 When Greg Eastman is not busy volunteering as President of LIDC – which is very rare – he presides over his full time job as owner and president of Hunkin's & Eaton Insurance Agency, a post he has held since 1991. Community service comes naturally to Greg as his parents had him participate in the Littleton Rotary – Lions Santa program for many years as a young man. Once he came back to Littleton and became active in the business community, he joined the chamber of commerce and served as its president on two different occasions in the mid 1990's and 2000's. He is a past president of the Littleton Rotary Club as well as past director of the North Country YMCA. His current volunteer activities include LIDC (since 1996, president since 2006), director of Passumpsic Savings Bank, Littleton Rotary Club, North Community Investment Corporation & North Country Home Health and Hospice, former chairman of the board for New Hampshire Association of Independent Agents and past director of the Paul J. McGoldrick Learning Center. Greg lives in Littleton with his wife Tonya and has three children.
Stan Fillion, Vice President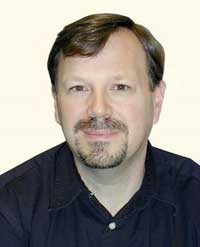 Born in Littleton and having worked in the community for the past 27 years, Stan Fillion really enjoys giving back to the community that he feels has given him and his family so much. When he is not working at the Littleton Coin Company, his employer for the last 22 years, Stan volunteers as the Vice President of LIDC, is a Trustee of the Trust Funds for the Town of Littleton, and is an Advisory Board member for Union Bank's New Hampshire operations. Although too numerous to count (at least 12 the last time he checked), in the past he also served in various roles with the School District, Public Library, Littleton Water & Light, All Saints Episcopal Church, Littleton Rotary Club, and Cub Scout Pack 209.
Stan lives in Littleton with his wife Terri and enjoys woodworking, gardening, golfing, kayaking and spending time with their four children and two grand children.
Chad Stearns, Secretary & Clerk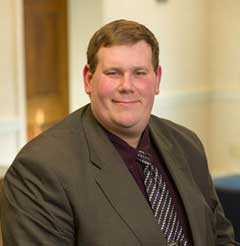 A lifetime resident of Littleton, Chad Stearns found pride in community involvement while working College summers for the Littleton Highway Department. He later interned at the Littleton Town Offices, and after college was employed for 5 years at the Littleton Area Chamber of Commerce, working his way up to Executive Director before moving on to his current employer Mascoma Savings Bank as a Community Relationship Banker. Chad currently serves as Secretary of LIDC, President of the Franconia Notch Regional Chamber of Commerce, board member of North Country Investment Corporation (LIDC), board member of North Country Home Health and Hospice, member of the Littleton River District Commission, and is both a member and Past-President of the Littleton Rotary Club. Chad lives in Littleton with his wife Casey and children Jack and Sadie. He enjoys hunting, fishing, and spending time with his family.
Chris Knapp, Treasurer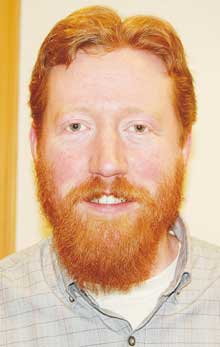 Chris Knapp was born and raised in Littleton and came back home after graduating from the University of New Hampshire in 2005 with a BA in Political Science. Upon returning home he worked for Geo. M. Stevens's insurance, where he is now a partner in the company. Chris has found great pleasure in giving back to his community through the Littleton Rotary Club and Littleton Rotary Club Charitable Fund, Inc. where he has served as treasurer of both organizations and as president of the charitable fund. Chris was also named to New Hampshire's 40 Under Forty class of 2015. He now resides in Lisbon with his wife and two children. In his spare time he enjoys playing guitar, hunting, fishing, hiking, and spending time with family and friends.
Directors:
Erica Antonucci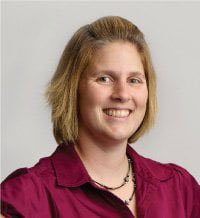 Born and raised in Littleton, Erica Antonucci, continues to work, play and live in the town she has always called home. Erica graduated from Franklin Pierce University (College) with a BS in Financial Management and went on to receive her MBA. After teaching in the area school district for over ten years, Erica returned to the financial world and is currently a commercial lender for Union Bank. Erica is also a board member for Affordable Housing, Education and Development (AHEAD), Grafton Regional Development Corporation, and a SAU 84-Littleton School District school board member. She continues to reside in Littleton with her family and two dogs.
Bob Copenhaver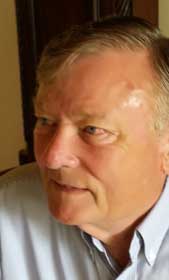 Economic Development is in Bob Copenhaver's blood. After serving in the US Army and graduating from the University of New Hampshire, Bob made a career in the New England fuel industry as well as a few joint investments, one of which is Gordi's Fish & Steak House, Inc of which he has been Treasurer and co-owner of since 1986. This solid career has enabled him to give back to his community in many ways, not only as a director of LIDC but also as a past president or chairman of Littleton's Budget Committee, Rotary Club, Littleton Water and Light Department, Economic Development Task Force, Littleton Regional Hospital, and Littleton Savers Bank. All of this earned him the award of Littleton Citizen of the Year in 1997.
Jeff Corey
A Littleton native, Jeff Corey has been a master Electrician his entire professional career, starting with serving in the Navy Seabees from 1973 – 1978 as a Construction Electrician Second Class Petty Officer, up to today where he owns both JA Corey Electric and Able Security. Having honed his skills for over 40 years, Jeff has provided expert service and leadership on community projects including design and installation of the Pollyanna Umbrella Project, Littleton Main Street Beautification, Nightscape Lighting Project, Riverwalk and archways design, Covered Bridge and Intermodal Bridge lighting. For community buildings, he has helped with the Littleton Community Center Renovations. Littleton Opera House, Chamber, and Historical Society office renovations, as well as the Littleton Fire Station, Police station and Highway Garage. He has even helped with Apthorp Common field lighting and tennis courts. He is an active member in both the Littleton Area chamber of Commerce and Partridge Lake Association, and has two daughters and four grandchildren, and loves spending time with them and their neighbors and friends.
Mary Doherty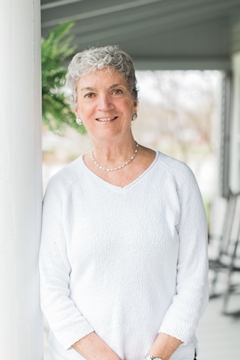 In addition to working at Peabody & Smith Realty as a commercial lender for the past 15 years, Mary Doherty came to the North Country and LIDC with over 27 years experience as an Insurance Broker in Andover, Massachusetts. In addition to serving as a director of LIDC, Mary is also a member of the Littleton Rotary Club and a season ticketholder of the Weathervane Theatre (of which both organizations she is a past director of).
Dave Ernsberger
After a very successful 32 year career at IBM Corporation as a Senior Leader, Dave Ernsberger and his wife Nancy retired to their "On Golden Pond Town" as they like to call it, spending their summers on Partridge Lake in Littleton. In 2010, Dave found his calling to put his past leadership and strategic planning skills to use in Littleton, leading the Littleton Community Project as well as the Main Street Piano's, Umbrellas, River District Commission, Littleton Area Chamber of Commerce, Littleton Main Street, Inc. and LIDC. When not in Littleton, he and Nancy reside in Austin, Texas.
Ed Hennessey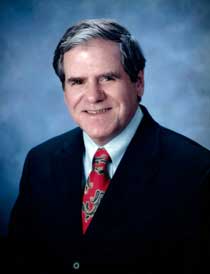 After graduating from the University of New Hampshire in 1966 and serving his country in the Vietnam War from 1967 to 1970, Ed Hennessey returned to Littleton and worked for a local CPA firm until 1981 when he joined the Littleton Coin Company as CFO, a position he still holds today. Speaking of long held positions, Ed has been a director of LIDC for over 40 years, and was vice president for 25 of those years. He also has been a director for the Paul J. McGoldrick Learning Center since 2005, the Moore Dam Revaluation Committee since 2006, and is a Director for Woodsville Guaranty Savings Bank. Past volunteer positions include most recently as a Littleton Selectman from 2015 – 2016, as well as roles as treasurer for both Littleton Regional Healthcare and Littleton Area Chamber of Commerce, president of Littleton Water & Light, Littleton High School Building Committee Chairman and town Budget Committee Chairman.
Mike Ransmeier

After graduating from Dartmouth College in 1966, Mike Ransmeier served 4 years in the US Army Special Forces. After his service in the Army he earned his Law degree from in 1973 from the University of Michigan. After working in other law firms for over 15 years, he formed the Law office of Michael M. Ransmeier in 1989, which he still operates to this day with his son Joe. When not practicing law or fulfilling his duties as a director of LIDC, Mike enjoys reading, classical music, opera, gardening, travel, and outdoor sports. In addition to LIDC, Mike's volunteer work includes Grafton Regional Development Corporation, and he is a Selectman for the Town of Landaff and the Sr. Warden for the Church of the Epiphany in Lisbon.
Christine Sheley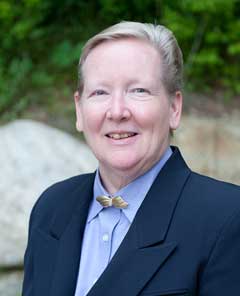 Christine Sheley has been in banking and financial services for over forty years and most recently retired as Regional Vice President of Union Bank with responsibility for the NH branches. She holds a master's degree in Community Economic Development from Southern NH University. Chris' other activities include serving the Town of Littleton as a Trustee of the Trust Funds, as Board Member at Grafton Regional Development Corporation, as Treasurer at the Women's Rural Entrepreneurial Network and serves as Treasurer of the Littleton Industrial Development Corp. When not at her desk, you will find her hiking, fishing, or flying.
John Starr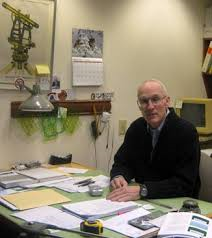 John Starr has been active in civic duty for more than 50 years, which started with joining the Marines from 1967 – 1970 including 18 months in Vietnam. After graduating from Columbia University and working a stint on the Trans-Alaskan Pipeline, he and his wife Maggie Moved to Bethlehem, NH to start their Business Starr Construction and raise their family. While running their business, John was also a member of the NH National Guard, where he was deployed in Operation Iraqi Freedom II for 12 months in 2004. Locally, he serves on the Boards of LIDC, . Previously, he has volunteered as a Scout Master for the local Boy Scout troop, and has been a board member of Habitat for Humanity Ammonoosuc Affiliate, Littleton Regional Hospital, North Country Healthcare, North County Home Health and Hospice, Profile School Board, Home Builders and Remodelers Association of NH, and the NH Building Code Review Board. He enjoys sports, skiing, canoeing, hiking, woodworking, and autos.
Carol Walker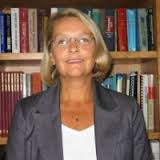 Currently living with her husband Jim in Franconia, Carol Walker has been involved Economic Development in the North Country through her involvement on various boards since 1993. Carol recently retired as a Commercial Loan Officer for Woodsville Guaranty Savings Bank, and worked at Northern Community Investment Corporation, Indian Head Bank North and Norwest Corporation for more than 20 years prior to that. Her volunteer efforts include her current position as a director of LIDC since 2007 (she was secretary from 2007 – 2014), North Country Council treasurer from 2005 – 2010, Grafton County Economic Development Council director from 2000 – 2007, and Littleton Regional Hospital Auxiliary treasurer from 1993 – 2000.
Paul J. McGoldrick, Director Emeritus
1935 – 2015
Paul McGoldrick came to Littleton in the 1960's to work for the telephone company. Shortly thereafter, he went into business for himself as an insurance agent specializing in corporate benefit plans. As Paul's business grew, he committed his life to the success and well-being of Littleton. He realized that, among the most important aspects to a vibrant community, Economic Development and Education were critical. To that end, he was one of the founding members of the Littleton Industrial Development Corporation. Paul served as LIDC's President for over 20 years. Today, the Industrial Park is widely recognized as one of the most successful employment centers in New Hampshire. In recognitions of Paul's untiring leadership of LIDC, the bridge to the Industrial park was named in his honor. Paul also believed that having a strong educational and training program was an important element to having a robust community. He gave generously of his time and resources to the Mayhew program, Copper Cannon and the scholarship funds of the Littleton Rotary Club. Lastly, he was one of the founders of the Littleton Area Learning Center, which was renamed in his honor as the Paul J. McGoldrick Learning Center.