Southern Coos – Littleton Area Partnership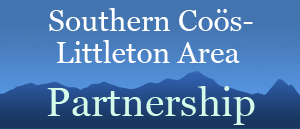 The Southern Coos – Littleton Area Partnership consists of community members and business owners from the communities that make up the Littleton Labor Market Area.
The partnership will help to enhance the small businesses of our region by bringing a diverse group of people together to work towards common goals that will benefit all.  Both Southern Coos County and the Littleton area have assets to complement one another.  There are many private and public organizations involved in the intricate economy of Southern Coos and the Littleton area.  We would like to optimize each other's success by building and strengthening relationships and by promoting and supporting each other's efforts.
By taking advantage of each community and individual organization/business's strengths, we can make our region more attractive for current residents, new residents, funders, visitors, and employers. We are convinced that we can help each other to stimulate more investment across the board and raise up the region as a whole.  The purpose of the project is to develop the partnership and establish common goals for the region to work towards in support of small business development.